Arts Award Gold Qualification Specification:
identification of a main art form/practice and development of skills within a new art form
◗ development of new arts pathways
◗ understanding of the relationship of their own arts activity to current arts practice
◗ a new piece of art work or arts practice
◗ sharing the new work
◗ how to collect feedback and evaluate their overall development
This could include:
◗ details of their main art form/practice
◗ details of the new art form/practice and why they have chosen it
◗ a skills development plan
◗ evidence of working with a practitioner experienced within the new art form or arts practice
◗ evidence of progress
◗ evidence of the new work
◗ evidence of sharing the new work
◗ feedback from others
◗ a final review, including reflection on the new skills developed and the influence they have had on their main art form/practice
My main art form is Film making, because I like the symbolism you can create whilst also showing people things they might not have seen without documentaries.
This is my Media Studies mock exam from last year. This is one of the first films I made.
The New Skill I would like to learn is Editing because I am interested in how different artists can use the same material to create entirely different narratives and manipulate audiences.
Introduction
I made a movie trailer for my media GCSE's. Since then, I have been very interested in documentary making for a while after finding the Dogumentary tv channel & Ghengis con films channel on youtube.
Generating Ideas
Channels with documentaries, and documentaries I enjoy
https://www..com/user/GenghiyoutubesConFIlms – a channel that shows the lives of MMA fighters in Miami, in two different series, both centred on fighter Jorge Masvidal and his journey through the sport, and also a multiple season series on the life o fighters a Phuket Top Team in Thailand
https://www.youtube.com/channel/UCpejL4mTlUJ_hfQY1PiCW6Q – Dogumentary TV is a great channel for information on dog breeds, the business of breeding dogs, and dog training all in one
https://www.netflix.com/gb/title/81157840?ad=true&tctx=0%2C0%2Ccc524dd9-5768-47d5-ba8f-7c1be773801f-374164330%2C%2C&trackId=13752289 – the game changers documentary on Netflix. while it is both biased and heavily disputed, still a very interesting film on the science behind the vegan diet
https://www.youtube.com/watch?v=0ted-vl-Vd0 – a great documentary on trying to achieve fitness goals, showing how it is all possible, but how much you also need a good deal of discipline
Strengths and Weaknesses
Strengths
| | |
| --- | --- |
| Strength | What I have done in the past to show this strength |
| Working independently | Completed my silver arts award during quarantine |
| Working with clay | Making a clay mask for silver arts award |
| Being inspired by other artists | Looking at horror masks and aliens from Rick and Morty for inspiration on my mask |
| Understanding complementary colours | Using complimentary colours in my mask design |
Weaknesses
| | |
| --- | --- |
| Goal | Why I would like to develop this skill |
| Creating a professional finished product | So I can open up other job opportunities in the future |
| Telling a story with my artwork | So I can make a film/documentary with a comprehensible storyline |
| Using sound to express emotion | So that I can make a soundtrack that can express emotion from myself to the viewer |
| Creating a product that has a practical purpose | So I can use the product to measure how useful other projects i create can be |
Working With Practitioners
Melanie Jones – Photographer
I completed a photography project with Melanie and part of that project helped me to develop my editing skills.
Melanie is a photographer based in south London, who got her degree in 2005, and has been working in the field ever since then, while also tutoring at different schools and universities since then.
Unboxing the lights: We got a new set of studio lights at school and unboxed them as a class so we could learn how to use them independently.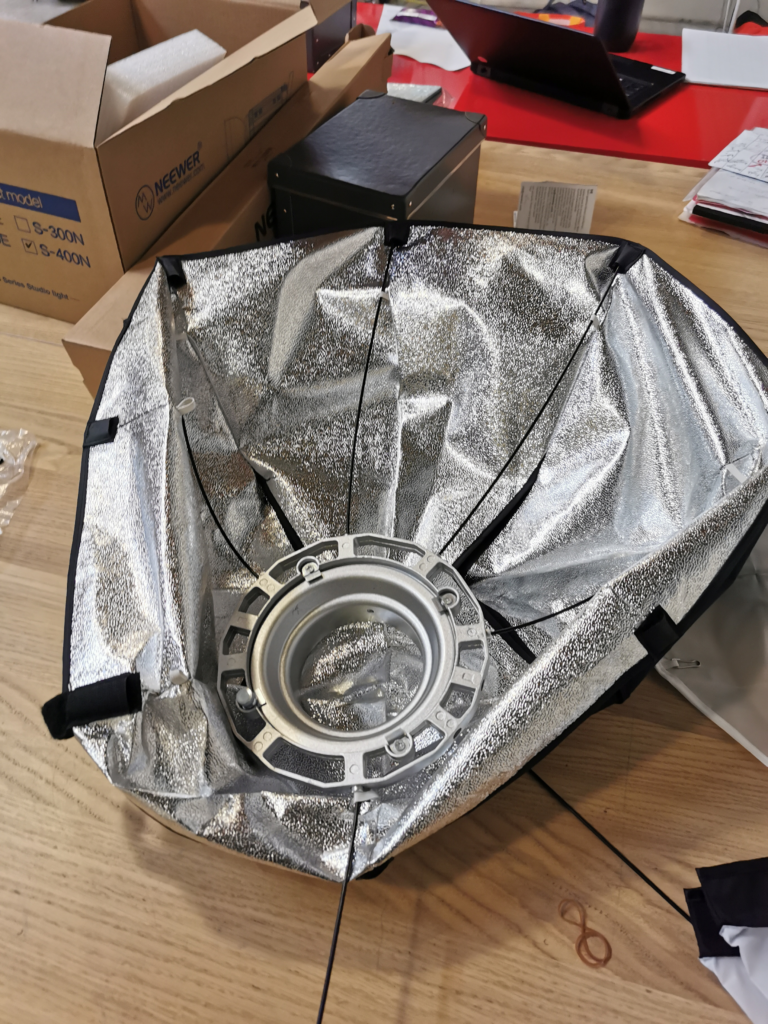 Learning to use studio lights (and the types of lighting – 1 point 2 point etc.) Melanie taught us about different kinds of lighting and we experimented with them.
Learning to use the camera: I have used an SLR before but only on auto mode, Melanie showed me how to manually set the exposure and focus so I could make my own decisions about how the image would appear which is a kind of editing of the subject.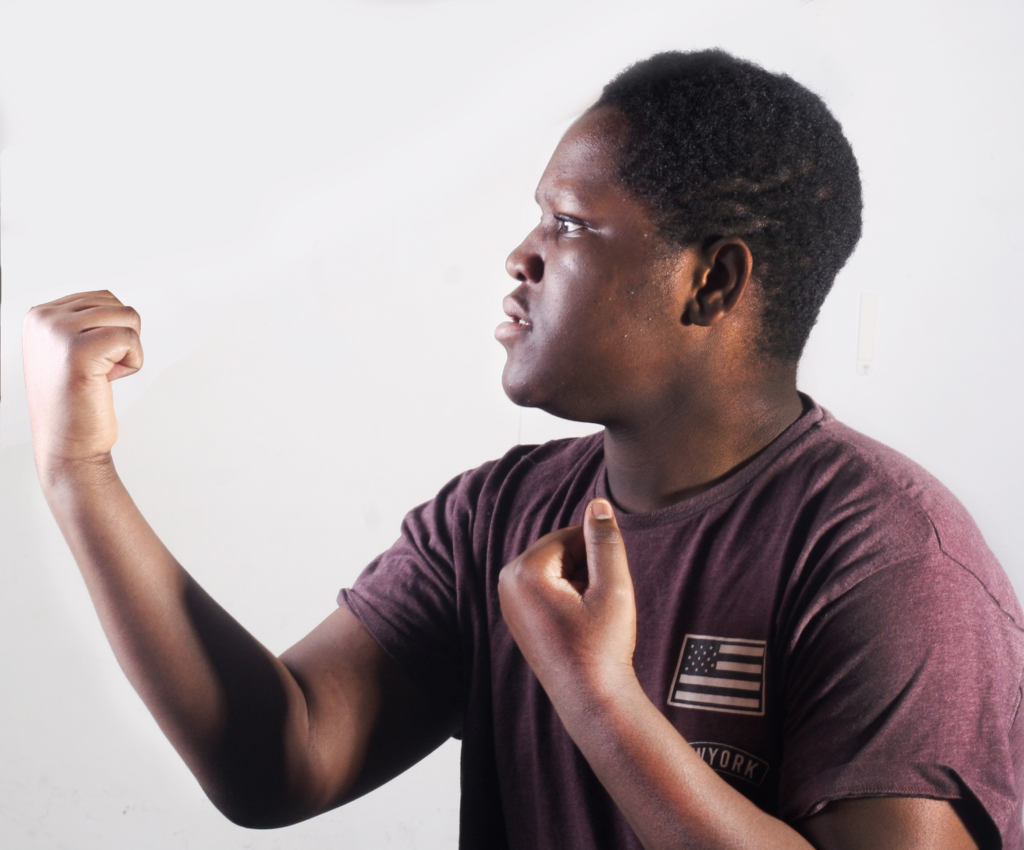 The new skill I want to learn is editing, so for me, editing images in Photoshop was the most important part of this mini-project. Melanie gave me a brief to follow as this is what would happen in a professional setting:
My brief: Create a fight poster using photographs taken in the studio.
The pictures – I decided to play both fighters in my fight poster. So I set up the studio lights using a three point set-up and then used a remote trigger to fire the camera.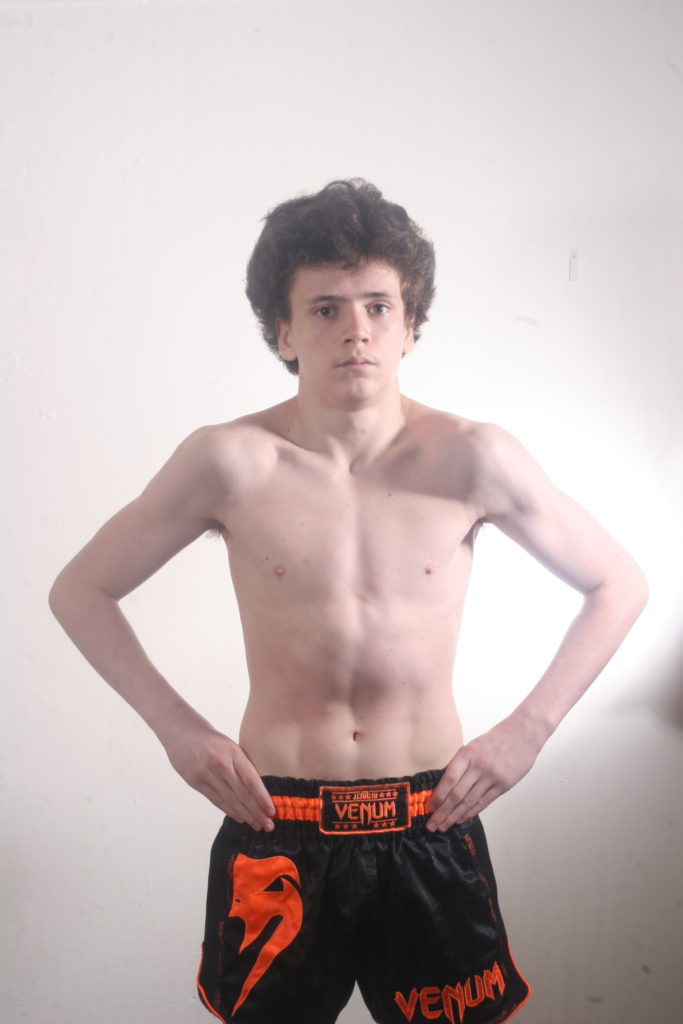 The final product
Aidan, you did really well in this mini-photography project. You learnt how to use the camera and studio to tell a story with your images and was able to work independently and help others. I know that editing was the most important part of the project for you and I was really impressed with your Photoshop skills. Not only did you learn the basics, you also started thinking about "best practice". When I look at the original raw photo from the camera I see a young man who looks a little nervous. In the final poster, I see two hardened fighters. This really shows how your use of EDITING achieved a completely different emotion and narrative in the work. The difference between the two halves of the image also shows this.

Feedback from Melanie on the product
How I developed each of my chosen skills through this project.
| | | |
| --- | --- | --- |
| Goal | Why I would like to develop this skill | Melanie's Comments |
| Creating a professional finished product | I worked on making a professional finished product with Photoshop, editing the images I took into a fight poster. I worked on setting up the lights to take photos, editing pictures in Photoshop using tools such as lasso, and I worked on posing for my pictures. | The product is completed to a near professional standard and certainly matches the brief. There are a few tiny tweaks Aidan could have made like removing the hook and a few of the marks on the wall using the clone tool. |
| Telling a story with my artwork | I worked on telling a story with my product through expressions and colours in my poster, and with text to help it along too. | The narrative of a fight is conveyed well in the poster through colour, the lines and the steely facial expression. |
| Creating a product that has a practical purpose | The purpose of the product is to advertise the fight. | This poster would make a good advert for a fight and Aidan could use these skills in the MMA community. |
Eric John Campbell – Editor
I wanted to work with a film editor as well as a photography editor because my main skill is filming and I wanted to learn more about editing my films. In the past I just used jump cuts or templates.
Because of Covid-19, I was unable to connect with a film editor face to face and I had to stop trying to find one. Instead, my teachers set me up with a Udemy course taught by Eric John Campbell.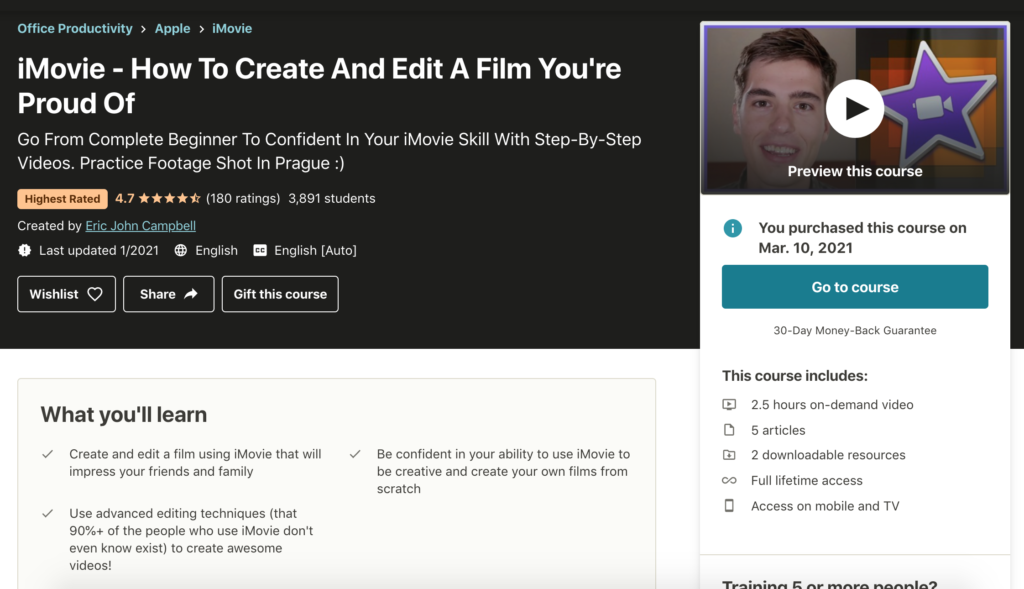 Feedback – This course asks students to post assignments on a public forum. Becuase I am under 18, and the school set up my account, I couldn't submit films of that had other under 18 year olds in them. So I couldn't get feedback from the instructor. But I do have a certificate of completion.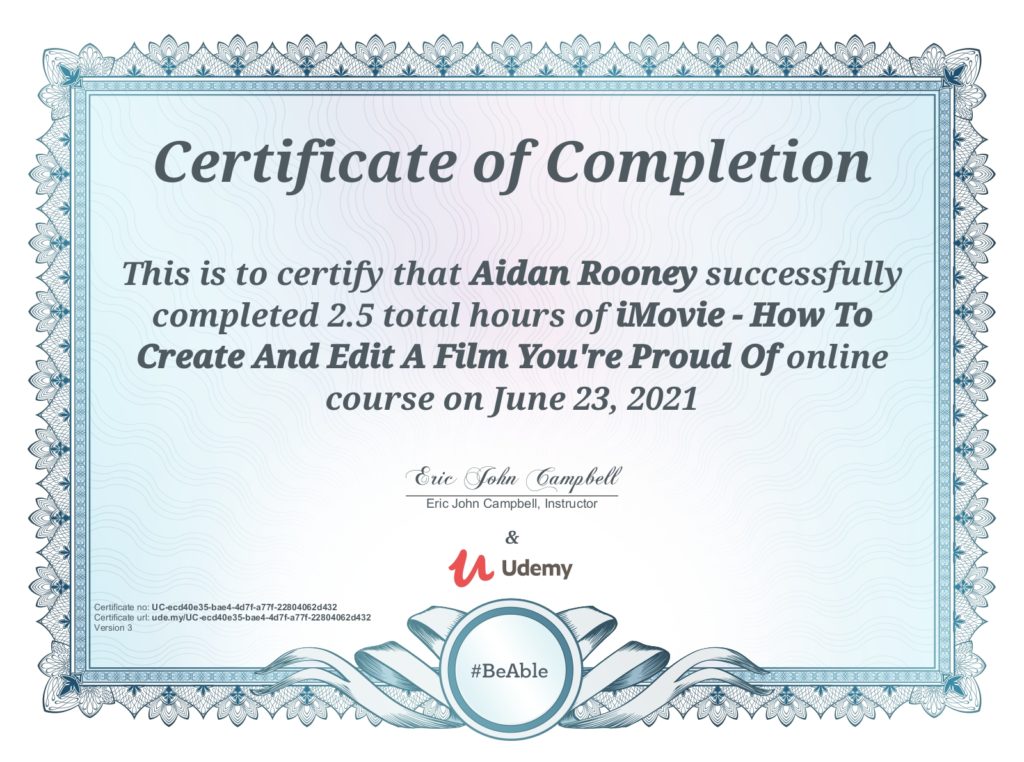 | | |
| --- | --- |
| Goal | How I developed this skill on the Udemy Course |
| Creating a professional finished product | FILL |
| Telling a story with my artwork | FILL |
| Using sound to express emotion | FILL |
| Creating a product that has a practical purpose | FILL |
My project plan
To collect research I will:
watch similar documentaries to what i plan to make
watch possible videos to use in my project
look at stories on Viktor Postol
look into other Ukranian fighters
To plan, practise, and prepare for my project I will:
work on my editing skills
practice making a soundtrack
do a work placement at a film studio or with a documentary maker
look at other documentaries made on the same subject
To create my project I will:
To evaluate the success of my project I will:
Evidence of Progress
Preparing for the New Work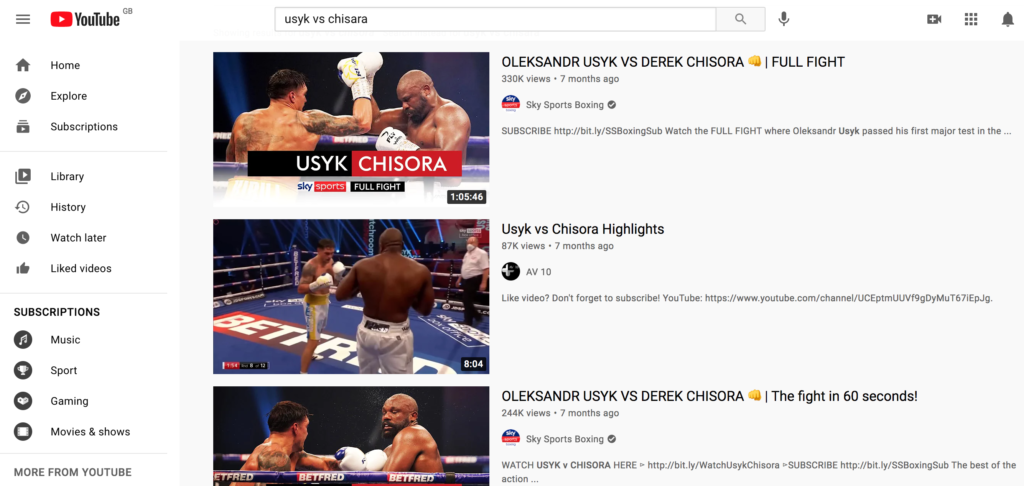 The first thing I needed to do was gather my raw material. I am creating a narrative documentary using found footage and my editing skills so I need to gather all of the raw material. Most of what I need is on Youtube and I wanted to get a 30 day trial account so that I could download the clips that I need. Before I sign up for the free account, I did research on Youtube and started making lists of the video clips I would need: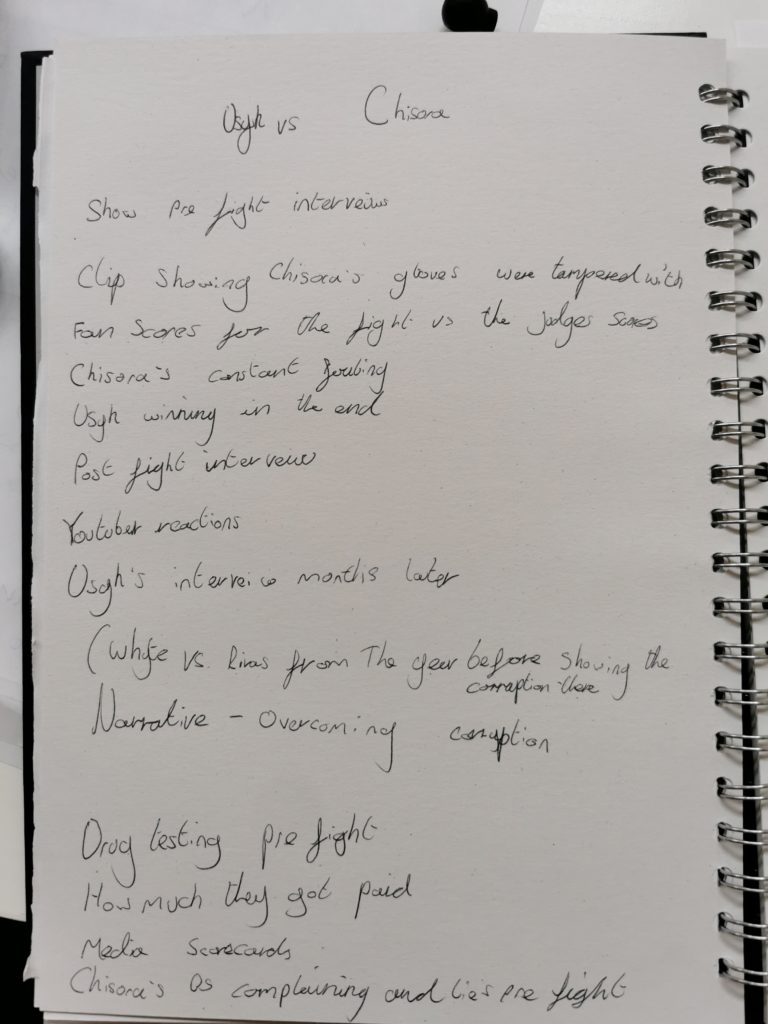 Sometimes I worked on paper like I did above, but I also had a Google Doc where I could copy and paste all the links that I needed:
Paste Google doc here.
You set yourself the task of making a list of all the clips you needed but you have done more than that, your work on paper shows that you are starting to consider the narrative that you are going to build. In your evaluation, I think it will be interesting to discuss different spins you could have put on this material if you wanted to.

Feedback from Melanie
Aidan set himsel
Creating The New Work
Creation and ongoing evaluation
Overcoming Challenges
Editing / Post Production
Photographing the Work
Click here to see my online exhibition!
Feedback
Feedback surveys and reaction from others
My Evaluation of this project
How I improved on my weaknesses
| | |
| --- | --- |
| Goal | Where I stand now with this skill |
| Creating a professional finished product | |
| Telling a story with my artwork | |
| Using sound to express emotion | |
| Creating a product that has a practical purpose | |
Unit 1 – Part B
Back to the start