Arts Award Gold Qualification Specification:
◗ evidence of research into opportunities to participate in the arts
◗ a description of what they did on their placement/volunteering/training/workshops
◗ reflection on how their experiences have supported their learning and arts development
◗ comments about their participation from the practitioners leading the placement/ volunteering/training/workshops
Placement with Peter and Melanie at the Mechanic's Institute Review

Details of the practitioner and what you hope to learn from them
I completed a six week placement at The Mechanics Institute Review Online, a website for Creative Writing run out of Birkbeck University. Most of the volunteers at MIR work from home so a lot of the work I did was via email. However I did go on a visit to Birkbeck to meet the managing editors of the magazine. During my placemement, myself and one other student organised a Youth Takeover Month. We ran a competition, selected entries, and published the winning stories online.
Timesheets
4/6/19 – Introduction and tour of the website (1 hour)
6/6/19 (2 hours) – Bing given editor WordPress accounts for MIR and learning how to edit a webpage on a professional site.
11/6/19 (1 hour) – Working on practice web pages
18/6/19 (1 hour) – Brainstorming ideas for a Youth takeover month at MIR
20/6/19 (2 hours) – Planning the call for submissions and design for the competition. Publishing these on the site. Learning how to use Trello, a project management software to organise a competition.
25/6/19 (1 hour) – Learning about social media marketing and how to get submissions
27/6/19 (2 hours) – Learning how to manage submissions using excel
2/7/19 (1 hour) – Emailing famous authors and MIR contacts and asking for them to write articles for the youth takeover (author engagement)
4/7/19 (2 hours) – Reading submissions
9/7/19 (1 hour) – Selecting winning submissions
11/7/19 (2 hours) – Scheduling posts to come out in September for the Youth Takeover month.
Friday 12 July 2019 – Trip to Birkbeck to meet managing editor, Peter Coles and attend a copy editing training session
16/7/19 (1 hour) – Copy editing
18/7/19 (2 hours) – Copy editing and finalising the project. Sending thank you emails.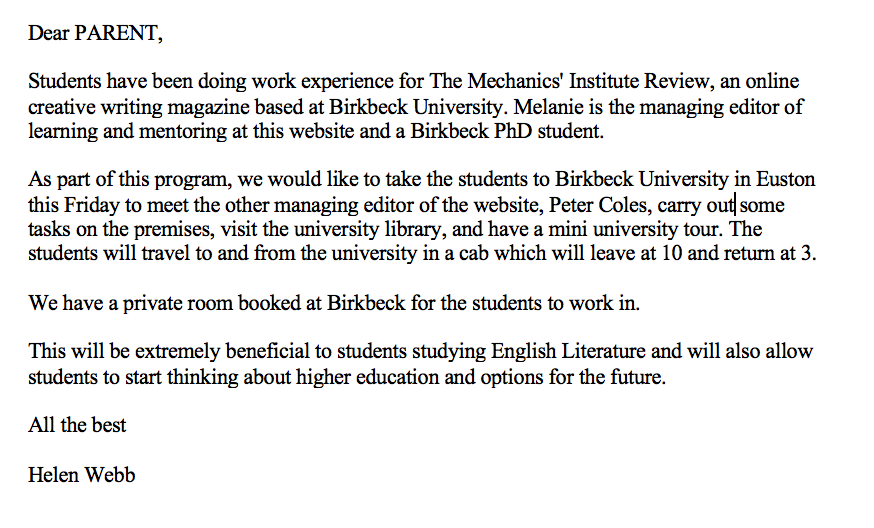 Details of the project
During the placement I learnt:
Developing Strengths and Weaknesses
Feedback from Melanie and Peter
Reflection on the placement
Virtual Art Placement
Research into potential practitioners
Video Tour
Reflection on the practitioner
Artist's Challenge
My work for the challenge
Artist's Feedback on my work
Developing Strengths and Weaknesses
Final Thoughts on both placements